The growth in digital storage allows us to keep more images than before. But where we once filled albums with our favorite photos, they now linger on hard drives or in the cloud.
One solution is instant prints from your smartphone or camera. Voila! A photo for your friends, or even potential business clients, to remember you by. To get the most out of instant prints, here are two common printing techniques used by Kodak digital instant cameras: 4PASS and Zink technology.
4PASS (Dye-Sub) Print
With the 4PASS technology, the printer uses thermal transfer technology to produce outstanding photo quality. In this process, the photo paper is printed four times, with four different layers on each image.
The process starts with the first layer in yellow, followed by magenta and cyan. It is finished with a laminated coating that makes your photos last longer.
KODAK Mini Shot 3 Retro
With the Kodak Mini Shot 3 Retro camera, you can take pictures and directly print them or print from the phone using the 4PASS technology. It is a 10MP camera with autofocus, autoexposure and white balance. A display on the back allows you to check and edit pictures.
The prints are 3x3in and have a retro analogue feel. You can decorate your images with a range of frames and stickers and there are extra filters for special aesthetic looks.
Zink (Zero Ink) Print
With this eco-friendly method, you will no longer have to change cartridges. Zink paper contains crystals that are controlled by a thermal printhead and heating element, which produces pulses of various lengths and intensities.
Each color is activated by different temperatures and pulses. In this process, the crystals melt and create color on the photo. The yellow layer is activated through high-temperature, short-duration pulses. Medium temperature and duration pulses activate magenta, while lower temperature, long duration pulses generate cyan.
This process is cheaper than the 4PASS dye-sub technology - but the image quality is not as high.
Kodak Smile Instant Print Digital Camera
This camera uses 'Zink' print and the paper has a sticky back. It works in a similar way to the Kodak Mini Shot 3 Retro but is not able to connect to your phone. It is a 10MP camera with a display on the back for photo editing.
The Kodak Smile has an LCD viewfinder, autofocus and flash, which will allow you to get great results. Filters and frames are available and a MicroSD card can be added. The main difference is the photo size (2x3in).
---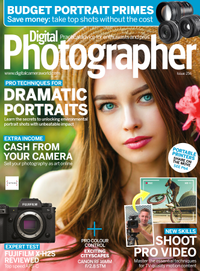 Whether you're a part-time amateur or a full-time professional, Digital Photographer aims to challenge and motivate you to take your best shots. Our in-depth features are designed to take your photography to the next level - and this is a great gift for anyone who wants more inspiration for their picture taking.