Unless you've been living under a lens cap, you'll know that the Big N has launched the Nikon Z8.
The much-anticipated follow-up to the Nikon D850 – which is the best DSLR ever made, if you ask me – had long been prophesied in the deepest, darkest corners of the web and it's finally here. Nikon itself is referring to the Z8 as a "baby Z9" and when you place the two mirrorless behemoths side by side, it's easy to see why.
• The Nikon Z8 is here – and Canon and Sony need to watch out
But beyond that juicy 45.7MP stacked CMOS sensor, the latest Expeed imaging processor and cutting-edge 8K RAW video, is something that's hardly a surprise, but an addition that speaks volumes for the future of mirrorless camera technology: just like its beefier sibling, the Z8 doesn't have a mechanical shutter.
Think about it. Anything new is met with some degree of trepidation, but the proof is in the pudding. The Nikon Z9 doesn't have a mechanical shutter and yet it's been widely adopted by the pro photographer contingent, and is generally considered one of the best professional cameras.
Nikon could have played it safe and chosen a smaller release to ease photographers into its shutterless revolution. But if the Nikon Z50 or Nikon Z 30 ditched their physical shutters first, I reckon it would have been passed off as a bit of a gimmick, not befitting a 'pro-grade' camera.
Instead, Nikon grabbed the bull by the horns and stood behind its innovation. If an electronic shutter-only design is good enough for the Z9, it's darn good enough for the Z8 – and you have to assume future Z-series cameras will follow suit.
Why is an electronic shutter a good thing?
So, why bother ditching the mechanical shutter at all? Well, the first plus point is reliability. Sure an electronic shutter can potentially malfunction, but a camera with a mechanical shutter isn't immune to electronic reliability issues elsewhere. And besides, a mechanical shutter can also malfunction – and since all mechanical components degrade over time, the more it's used, the more likely it is to give up the ghost.
That's not to say that mechanical shutters are inherently unreliable; you'd still be pretty unlucky to experience a problem, but that's why a comparable camera with a lower shutter count will fetch a higher price on the used market. And obviously, an electronic shutter-only camera makes shutter counts a thing of the past.
Perhaps the most obvious advantage of an electronic shutter is its ability to operate silently. Sure, this can be a little offputting at first. I'll readily admit to enjoying the tactile nature of hearing the clunk, ping and snap, and feeling a jolt of vibrations resonating through my faithful Nikon D800 and into my hands as the reflex mirror and mechanical shutter dance in unison. But this isn't particularly helpful if you're photographing a live rendition of Moonlight Sonata, a bride and groom exchanging vows or a notoriously skittish rare bird.
And those vibrations caused by a mechanical shutter, however small, are enough to cause camera shake if you're not careful. And then you have the Z8 and Z9's blistering 120fps burst shooting. Simply not achievable via a mechanical shutter.
What are the cons of an electronic shutter?
There are, of course, some downsides to electronic shutters. You've a higher chance of experiencing rolling shutter distortion, for one. But as we all know, the Z9's stacked sensor (now inherited by the Z8) was built to minimize this and by Nikon's own admission: "The world's fastest sensor-scan rates and super-fast shutter speeds virtually do away with rolling-shutter distortion."
Flash sync speeds have traditionally posed similar problems, with a mechanical shutter outperforming electronic variants that can struggle to match the necessary sync speeds. Again, the Z9 mitigates this with its 1/200 sec sync (not the fastest, but entirely usable) and high-speed sync, which maxes out at 1/8000 sec with a compatible flash device.
My final thoughts...
The Z9 has proven beyond doubt that a pro-grade flagship without a mechanical shutter isn't just a possibility, it's quite possibly the natural evolution of the modern mirrorless camera. In a world where Nikon was criticised for committing to the mirrorless revolution late, the Z8 and Z9 have placed it at the forefront of mirrorless technology.
The move to electronic shutter-only was an inspired innovation, and one that I applaud Nikon for standing behind. If the technology is affordable enough to implement, I see no reason why the no-mechanical-shutter movement won't continue in future, more affordable Z-series cameras.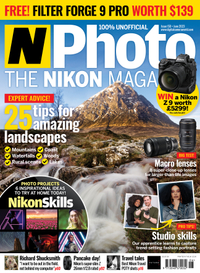 N-Photo is 100% Nikon-devoted, and 100% editorially independent. If you're a Nikon owner and want to improve your images, get the best buying advice and reviews, see some of the world's best Nikon photography, N-Photo is the title for you.
Subscribe now and save!
If you enjoyed this article, you might be interested in reading about the best Nikon Z lenses for FX and DX cameras. If you're clinging to your DSLR you can also check out the best lenses for the Nikon D850, and it you're embracing the revolution then take a look at the best lenses for the Nikon Z50.