When shooting fast movements, the main focus is often on technical settings. Delivering amazing action shots is not just about the frozen movement itself, but the composition of the shot will also make the image stand out and direct the viewer's eyes on essential, fast-captured elements.
When composing a shot, preparation is key. Think out of the box and be ready to leave your comfort zone. By exploring the environment around where you want to capture these fast movements, you will gain more time during the shooting allowing you to concentrate on the subjects and settings. Especially when taking photos at an event from a defined location, different perspectives and angles can be tried out even without the subject.
3 perspectives and their effects
1: Side-to-side
To best convey the sense of speed, position your subject at 90° to the camera lens. This angle allows you to create dynamic photos, showing fast movements, but there is a greater chance of other elements interfering with AF lock, as they move between you and the subject.
---
2: Head on
By choosing a position where your subject is moving towards the camera, the focus shifts from showing visible motion to characteristic features of the subject. Putting the spotlight on the subject itself can be a good technique when photographing famous athletes.
---
3: Low
Capture unique moments of movement in high detail by lowering your camera position. For sports or wildlife shots where the main action of the subject is on the ground, this perspective offers the viewer an uncommon insight into the action.
---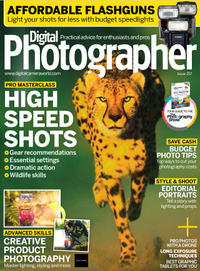 Whether you're a part-time amateur or a full-time professional, Digital Photographer aims to challenge and motivate you to take your best shots. Our in-depth features are designed to take your photography to the next level - and this is a great gift for anyone who wants more inspiration for their picture taking.